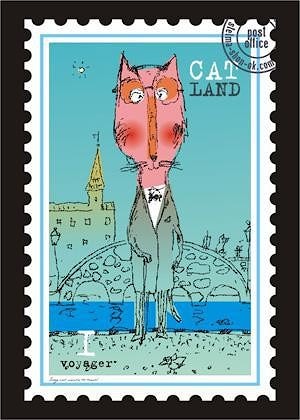 Cats adore travelling. The most lazy ones explore all the corners of their homes. Those that are more active stroll along cornices and balconies. Artful ones climb the roofs, attics and antennas. But the coolest ones travel from one place to another and never stay in one and the same place for a long time.
Not many people know that the famous Marko Polo was a cat. At the moment a sensational publication is being prepared. It will definitely rock the world. According to this publication mercenary merchants came to India tracing Marco's pawprints.
The fact is still a secret and the artist Sergey Stelmashonok illustrated just a fragment from these x-files: the cat stamp poster represents Marko's trip to Prague, which has never been known before.