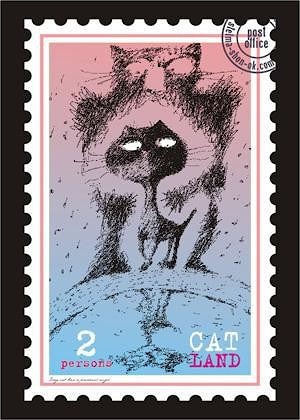 Every living being has its keeper, and cats have the most powerful keepers. That is why cats are never afraid to climb the highest trees. Still, sometimes a cat may climb the highest tree and then it may start yelling and try to pretend that it can't get down. But in fact it just wants to attract attention and get a sausage and a saucer of sour cream.
People can't see their keepers, but they feel that a cat's fur become electric when you stroke it. This is done by the cat's keeper who protects the fragile body of the cat with the help of its fur. Cats know everything about their keepers that is why they are never afraid to climb everywhere, jump everywhere and scratch everything and everyone: they just know that the keeper grants them 9 lives. And this is just the official number! And the unofficial is much larger…
This is the first poster ever that depicts the cat keeper.