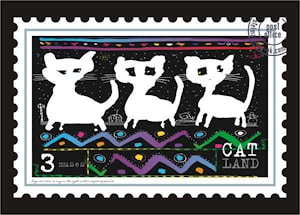 The muses (derived from the Greek word — imagining, thinking, conceiving) — they are the daughters of Zeus in the ancient Greek mythology – they are the patrons of sciences, poetry and arts. They were mentioned in THE "Odyssey" and the "Iliad".
You will never know what actually happened on top of the Mount Olympus. But everyone knows for sure that when more than one cat – let us say three cats gather in one and the same place they start singing. May by they just can't decide who will be the patron – or catron – of sciences, of poetry and of arts.
The thing is that all cats are very smart, as the great Russian poet Alexander Pushkin stated in one of his poems. Besides cats purr very melodiously and can create a marvelous creative mess in any room. That is why these cats argue day and night. This very scene was depicted in the poster.