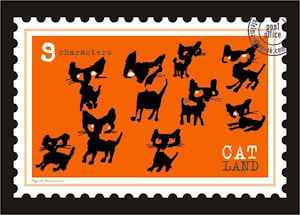 Everyone knows that a cat has 9 lives. But not all people may guess that each of the nine lives has a different character It happened many times: an angry and scratchy cat may run away and when it comes back home – it is absolutely different! It becomes so tender, sweet, it is purring all the time… This is the most simple example of the changes in the cat character.
Just try to remember how a cat reacts to valerian. It may do anything for a drop of valerian! Scientists have never explored the interdependence of valerian and cat sex, but they suppose that valerian will win, as it is always in deficit, and sex… Well, cats can hit that any moment.
The poster depicts a unique scene: all the nine characters of one and the same cat. Try to guess: which one is real?