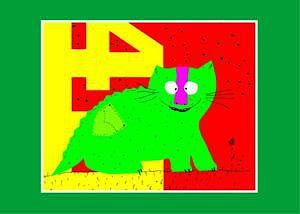 Cats and dragons have much in common. Ears, paws, claws, the ability to growl and spit – isn't that enough?
Cats are absolutely independent and they possess a unique ability to make their marble good for women, who immediately start being over-sweet with cats. That is why cats have always had a better life than dragons did.
But dragons are also very smart. They thought of a clever gimmick: they turned into cats to get into human homes. That is why dragons disappeared and cats multiplied.
Now you know the truth and take care: if a cat starts scratching your sofa or its hair bristles up, if it yawns and shows its sharp teeth – that is not a cat any more, that is a dragon!
And if a cat is purring and rubbing against your legs that means that a dragon is trying to get leg in. Don't show that you guessed the trick, just feed your dragon and do it regularly: you should never make your dragon angry.
This poster can not only decorate your room: it will also be a signal for other dragons that you are under protection. Very much like a Princess from a fairy-tale.
And if you are a man… Then like a Prince from a fairy-tale.
Because Princes liked to win a victory over a dragon for fun but in front of the fair lady. After the fight the dragon turned into a cat and – good bye – until the next fight over a lady's heart comes.