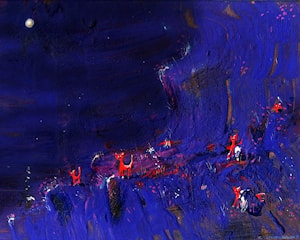 This picture is already 30 years old - this was one of the very first cat-themed pictures by Sergey Stelmashonok. It was shown for the first time at the exhibition of young artists' works in the House of Cinema. But the exhibition frightened the comunist bosses so much, that one day after the opening ceremony it was hurriedly closed.
And now a true legend about the Chiefs of redskin cats.
The most inexorable cats in the world are the redskin ones... That is partially because of their ruby-red colour.
The thing is that they are very warlike, and if bulls are quite aggressive towards the red colour, red cats are aggressive towards all other colours.
And these cats would have conquered the whole universe, if only they were taller then three centimeters. That is also the reason why there is enough space for them on a tine island right in the middle of the blue sea.
- The End -