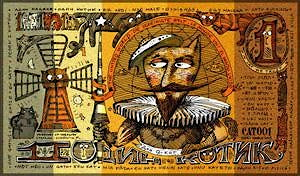 This work was first shown at the international exhibition "March Cats" in Minsk in 2009. When the world financial crisis went into top gear, when the politicians of all countries doubled the power of the dollar and eagerly offered to introduce the single world reserve currency the artist Sergey Stelmashonok created a bank note – "one puss".
The artist is sure that catcurrency will arouse positive emotions in people of all nationalities because in most countries the cat is a symbol of comfort. Unlike the currency of some states that tend to be one-coloured (for example, the green dollar of the blue euro), "pusses" will be universally stripy. In the bond its nominal value is written in 40 different languages –from a Chinese dialect to Esperanto.
The "pusses" are also unique because they will be one-sided. This will enable people to glue "pusses" together and have new bonds at your disposal which will make mutual settlement of accounts much easier.
Belarusian visitors of the exhibition praised the project highly, because they already have unique experience with zoo currency: in the 90-s Belarusian rouble bonds depicted animals and a common name for this type of currency was "hares".
By the way, how many cats can you see in this bond? The right answer is 16.