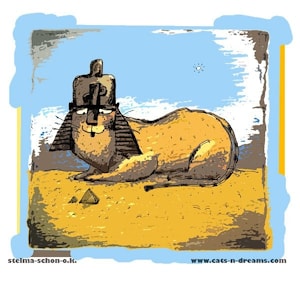 According to Egyptian beliefs, sphinx is a she, moreover SHE appeared to be oviparous.
Sphinx eggs are very unusual: it's not other sphinx' that are hatched, it's pyramids that are hatched. That's why sphinx never breeded and now they are very rare.
Still their creations - Giza pyramids have become really grand, especially Khufu (even the name itself can give us an incling that the pyramid used to be very smallish in its childhood).
As far as the sphinx is concened, it is quite possible that she is somewhere at the end of the world in a tiny cave caring for a new-born baby pyramid...
The picture of a sphinx cat illustrates the happiness at seeing the first triangular pyramids, that became the base for the future Giza complex.
Note:
The picture was inspired by the ancient Egyptian frescos, that were inaccurate about two details: at first appeared not two, but three pyramids.
- The End -