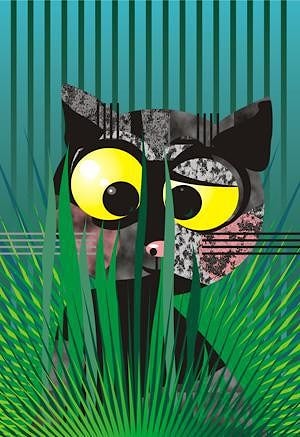 Nobody knows why cats are so wild about grass. Even the great science-fiction writer Clifford Simak who wrote "All Flesh Is Grass" doesn't know that. But notice: it is not by chance that cats like to chew house plants – they seem to get green energy in the most accessible form.
Maybe their passion evolved for years and rooted itself in cat-genes, alongside with the ability to be playful, to hunt and – which is important – to hide in green microjungles.
Most cats have greenish eyes and they artlessly believe that it is quite enough to be absolutely unnoticeable in the grass. Even if you see hairy ears and a tail sticking up from the grass, do not make our fluffy and short-haired friends upset and pretend that they managed to hide VERY WELL in the grass.
___
We should note that "GRASS HAS EARS AND TAILS" is the latest poster by Sergey Stelmashonok – it has been completed just a moment ago))).
- Ends -