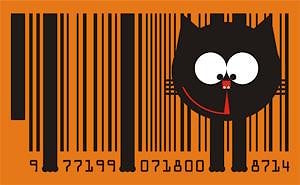 How to draw a homo sapiens? Dot-n-dot, line-n-line – that's a human being. It is easy with people.
And if you draw a circle, two triangular and several lines (just like in a bar code) you can get a cat sapiens.
Now, let us look closely at the face of the cat depicted in the portrait: it can be easily understood what the cat is dreaming about – about a nice mouse.
The cat's interest is not gastronomic. The nature of the desire is absolutely different: such forbidden love raises the bar of the cat's moral beauty.
This minimalistic poster gives the answer to the question whether cats are ready for serious relationship outside their milieu. This poster also helps to create romantic an modern atmosphere.