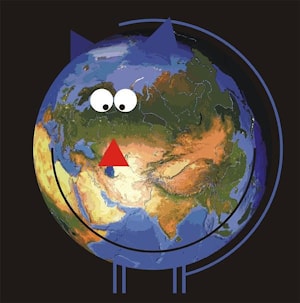 The days are rolling by, the hours are rushing through, the seconds are flying by all the year round. The planet is turning wildly, and inside of it, working in a spin cycle, millions of cats are running forward - enjoying their tenth bonus eternal life. It is those cats, having lived their nine Earth lives, that help the planet to spin endlessly. So, there is absolutely no surprise about the fact that our planet resembles a huge cat, when looked at from the outer space.
This is the terra where millions of incognito and unseen cats dwell in the unexplored and mysterious territories. Cats have reached the very center of the Earth to cognize the essence of the good, the eternal and the sensible.
Sometimes the Earth cats curl into a ball and raise fur, which makes them look like furry balls. Some of them even consider themselves to be the center of the Earth. And you know what? That is the truth, because the underworld is still waiting for them.