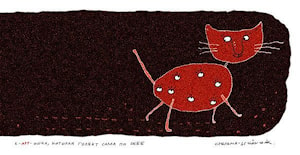 Potatoe is the most precious fossil of Potatoland, which lies in the very heart of Europe. For the native population it is the most valued treasure, the legendary resource and national pride. Whatever the native Americans say, trying to prove their love affair with the plant, we all know the truth.
It is not by chance that in our land each potato is carefully hidden in the ground, as it is the most valuable treasure. This is the best proof of the value of potatoes.
Growing potatoes – is an Art act. It is not some "Solanum tuberosum", which you can only put into a pot, boil and savour the taste.
The very special potatoes from Potatoland can be not only boiled, but also thrown into a river, and in this case these potatoes sing their special "Plop!" song.
Of course you can eat it – but it is even more interesting to create magical moonshine from it and more funny to carve funny figures and silhouettes out of it. And all the shoots, sprouts and knobs – they are so funny that you can laugh yourself silly!
But never look into potatoes' eyes – otherwise you will never be able to eat it. Or, which is even worse you can turn into Mr. Potatohead, as it happened to one of the foreigners.
And note – if you leave your potato unattended it will get up on its feet and run away immediately.
And you will never catch it or call up to it whatever you call it – either Potato or Solanum tuberosum…
And you should also remember that potato, just like the Phoenix, never dies. Even if you cut it into pieces and bury it, each of the pieces' eyes will give life to new potatoes, which, in their turn, will also have lots of eyes. If you imagine the same thing with people it will be a surreal dream and Dali would be proud of it.
And this cat-art-potato in the poster is also dreaming of travelling in the underworld, but it feels quite well there. The cat is liking in different directions with its new eyes, blinking and feeling happy.
- The end -