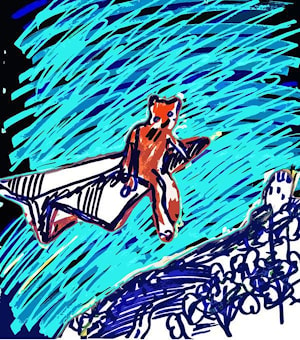 "...I see here one and the same dream very often: I am in a paper world and sit on a newspaper plane with my legs hanging in the air. From tome to time I look up and down. I can see jazzy sky above me, as if a multicoloured applique work... I can see houses, streets and parks made of blank sheets of paper somewhere beneath.
Maybe those blank sheets of paper symbolize snow, purity of soul or the unexplored territories. But there is one more possible explanation: all the coloures are in the sky and no more coulourful paint is left.
And then a naive and pleasant feeling arises: fortunately, the artist was drawing on white paper. If it were grey or black the horizon would seem too gloomy.
And I am flying with the wind blowing into my face. And I clearly understand that tomorrow it will happen again. And the day after tomorrow again, and again and again many times. But will I reach my goal? And what is my goal? I wish I knew..."
An extract from "Memoirs of an unknown cat", page 22
- The End -