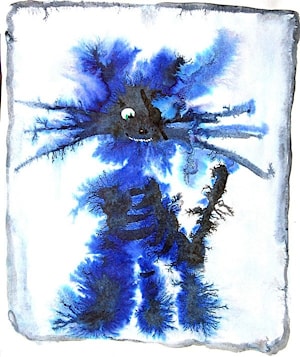 They say that if you sail in the blue sea for a long time the fur becomes blueish.
But that is what happens later, and now it is your first moments in the navy, you are breaking jars, hoisting the sails, climbing masts and cherishing the dream to become a real blue-black captain. So that you could stand proudly on the bridge, wear a hat with an aigrette and everyone would be running around you: up and down, polishing all the copper details, so that they would shine just like cat eyes!
The shining always impresses the adversary even before the fighting starts and it is a 50% success guarantee.
And then at night, after a successful day, you you could scrutinize all the treasures and think whether to hide them on one of the island (so that some Jim Hawkins or just a man with a mine-metal detector finds them some day) or keep them by your side (so that some dumb fed or tax collector takes it away some day). Giving half of the treasure to the crew is also a bad variant, as then they will be on a long drunk-sick-drunk leave.
So, the best variant is to put the treasures into capital equipment: ships, new masts, sails, shrouds, topmasts and more boats, supporting and developing your business. Such big-picture thinking is bound to bring success to the whole company. Arr!
- The End -