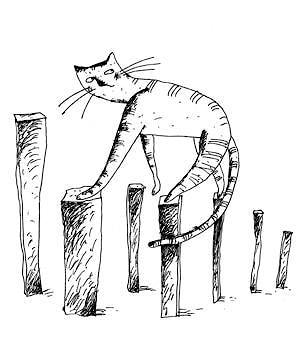 S-cat-shes exhibit of graphic art created by Sergey Stelmashonok recently showed at the Belarusian Society for Friendship and Cultural Relation with Foreign Countries
.
All nineteen pieces from the series are devoted to one character – a cat in various images, situations and actions.
Sergey Stelmashonok is a Minsk artist from a family rich in artistic traditions. The major part of his professional path is connected with graphic design and advertising. The chief passion of the artist is newspaper and magazine graphics, while his main hobby is representation of the fantasy world inhabited by his favorite creatures. In his booklet Sergey provides spectators with a simple explanation: "Why cats? I just like them all – tabbies and carrots, tri-colored, white and black. They are completely independent, charming and graceful. They are full of dignity and have a good sense of humor. Well, their claws can be sharp sometimes. Cats are healers. They evacuate negative energy from their surroundings. And eventually, they have nine lives – brilliant exemplar!
And here is a cat following in the footsteps of Indiana Jones.
His wall neighbor is a gloomy creature with a glass of vodka.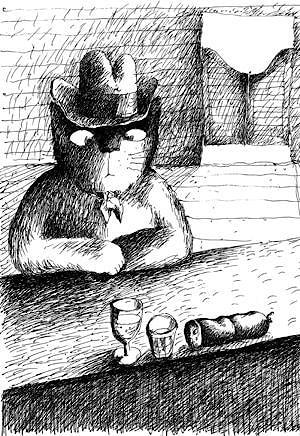 Besides these two is a cheery guy who was caught by the artist's eye while cooking a cat cocktail.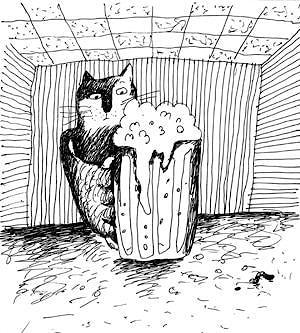 Next to them is a poor kitty soused to the skin, and then a serious cat-farmer working on his farm.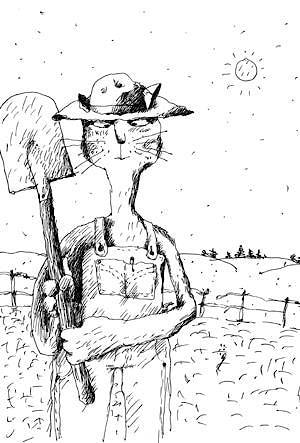 Nineteen pictures is just a tiny portion of the whole 'cat cycle' of Sergey Stelmashonok. The exhibit no doubt created unique and peculiar impressions from the touching world of the artist. Each viewer see something different that already exists inside himself. And fantasy can fly on wings!
Grigory Chehovskoy, «Belarusian Mobile»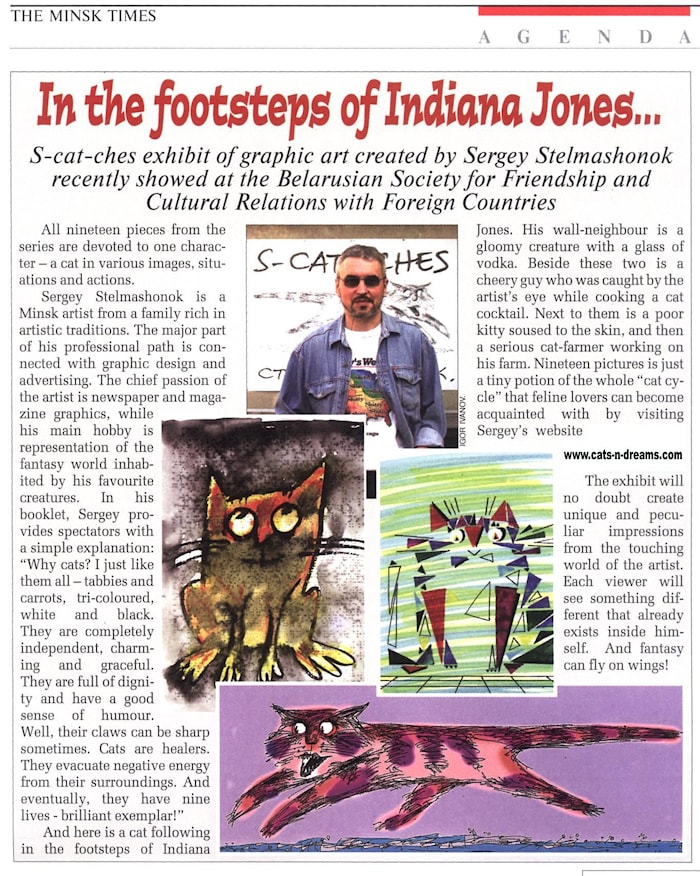 Igor Ivanov, «The Minsk Times»