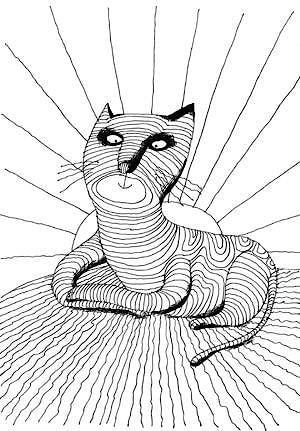 Minsk House of Friendship presented the personal exhibition of graphic works by Sergey Stelmashonok. Sergey is a worthy representative of an artist dynasty. He has a good reputation as a highly qualified specialist in the sphere of industrial design and advertising, as well as a talented magazine designer. During the last 20 years he impressed more than one generation by the unique combination of humour and irony of the drawings which were specially designed for such magazines as
"Parus", "Krynitsa", "Fantakrim-Mega"
. During the years of working for the magazine
"Delo"
as the art director Sergey Stelmashonok proved his ability to create funny and interesting illustrations even for the most boring articles.
And now the designer whose style is unique and well-known presented the new facet of his talent. All the works at the exhibition are dedicated to… cats.
- Sergey, why did you chose this character – the cat?
- It is just that I like them all – stripy, ginger, three-coloured, white, black ones. Because they are independent, charismatic, gracious. They are full of dignity, they have their peculiar sense of humour and have sharp claws. They reduce stress and take negative energy away. Besides, they have nine lives. They are perfect role models, aren't they?
- You called your exhibition "Scatches"? Is that because of the fact that the exhibition features your sketches?
- Well, the emphasis is actually different. I called it S-cat-ches.
- ???
- S – it's me, Sergey Stelmashonok. Сat – is the protagonist of the exhibition. And Ches – quite understandable – is an abbreviation which stands for Cheshire, where the "smiles" of all the cats of the world dwell.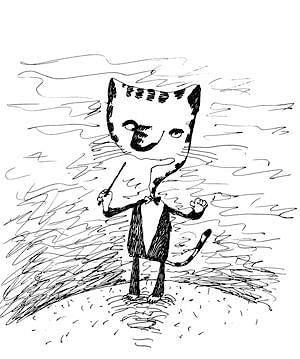 - How long have you been drawing cats?
- From the very beginning of the 80-s. I remember that long ago I presented my self-portrait at the young artists' exhibition. I depicted myself as a cat in a beret surrounded by a crowd of smaller cats sitting, lying and hanging on my shoulders. The face of the cat was 'cut' into thin stripes. Now there is nothing new about it but at that time the portrait was so avant-garde that the authorities decided to close and dismiss the exhibition on the very day it opened.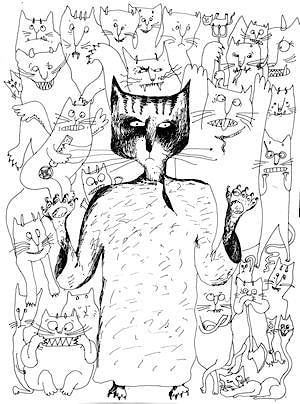 - How big is your collection?
- Many cats that were created by me live at my friends' now, and because of that I feel happy. Each year I create a series of New Year postcards featuring cats and send them to my friends who live in different cities from Irkutsk to Chicago. But all together I have made more than 5 thousand works.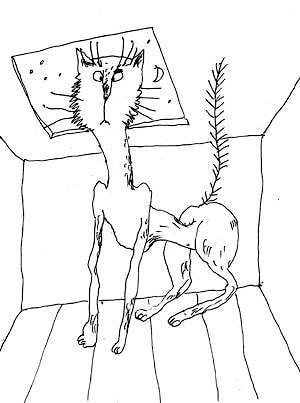 - And now I will ask you a stupid question, still, please try to answer it. How do you create them?
- I would like to give a clever answer, but I would better tell the truth. I do not create them, It is they, who come to me. This is why it is so interesting to draw them: you never know what may come out in the drawing.
Questions by Grigorij Chehovskoj