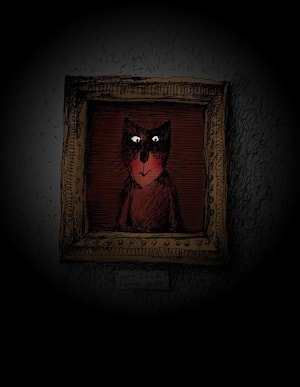 "Silence and darkness rule over the deserted, as the legend goes, boho Bohemian castle. The corridors - besmirched at the times of ancient beanfeasts - are now scarily deserted. They greedily resound to the steps echoing somewhere in the distance, as if trying to create an illusion that there is someone else here.
In fact it was several hours ago when it got clear that there is no one alive here: it's too cold, chilly, mouldy and damp. And as far as not-alive ones are concerned, they move silently and the imitation of rustle dying away is beyond their abilities.
The grayish webby mould garlands hanging from the walls pell-mell with white thin stems hanging from the ceiling and the scrubs of blueish moss tremble in the draft. And the dim light of the lantern resuscitates all that and turns it into laced silvery artwork of a mad goldsmith of old.
Suddenly... (text illegible)... desperately yaws and we saw a portrait hanging in a snow white stone niche untouched by the decay. It was not until later that we understood everything about it's energetic...
(several pages of text illegible)
...
... again and again. The portrait was looking upon us crewing up its eyes just as usual, but obviously noticing everything that is going on around it. And then I understood that our fellow got to this stone trap not by chance. And it is not be chance as well that we are wandering around the cobwebby labyrinth for so long. The sparkling silvery web gently vibrating in the draft has gained much power right in front of our eyes. Now it was spreading its reddening threads almost to the centre of the passages... (text illegible)... now, being left all alone, I recklessly decided to..."
An extract from illustrative "Memoirs of an unknown cat", page 222
- The End -