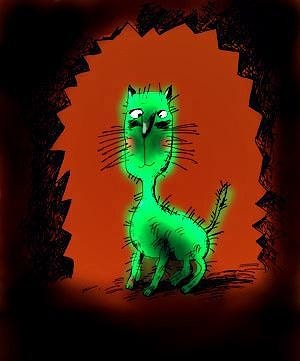 Not do long ago there still were unexplored caves in the wild. People were intrigued, but intimidated by them. You never know, who does the cave belong to: Ali Baba or some other ALI* creature...
*ALI = Acting like intelligent
That is why all potential cave dwellers made their cats first enter the caves, justifying it by a superstition that, they say, if a cat is the first to enter the cave/flat/house it will bring happiness and money.
Maybe such a superstition appeared because of the fact that cats are the best at identifying places with negative energy. No cat would ever go to such a place. Besides, cats can easily find their way in the dark, while people find a lot of troubles with that.
So, if a cat is turning its nose up at the cave, marked the entrance or just scampered away from it - that was a vivid sign that neither a man, not a woman has anything to do in this cave both by day and by night.
Still, British scientists have a daring theory, according to which cats are just too cunning: they scared people away from some cave and some time later returned to the same cave to make a love nest for themselves.
No one knows anything for sure about that. As it was said in the very beginning, now there are almost no unexplored caves any more.
- The End -