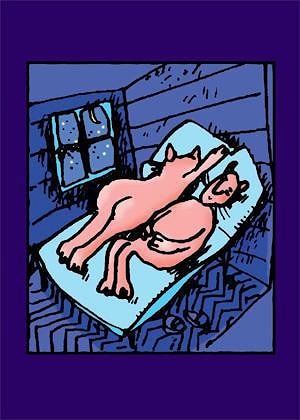 As it becomes dark everything turns to be blue. Everything except for living beings which somehow shine. A he-cat and a she-cat would never think of watching TV. When they are together they simply lie by each other's side and they know it for sure: the evening is theirs. And yours in case you have such a poster at home.
This poster was first shown at the international exhibition
"March Cats"
in Minsk in 2002. The artist was given a special section at the venue where there were his works only. The poster was highly praised by the public. During the first professional exhibition which ran from December 2009 to February 2010 in the Polish town of Byelostok, poster was also praised for its exquisite and elegant mood.