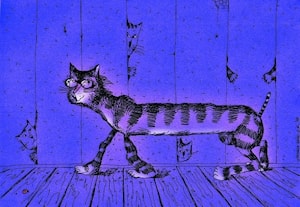 First trip to the mainland during the eclipse
«...as it used to be among the ruins of this metal city. An even though each and every door opens with a heartrending rusty squeak, the breach-block was still strong enough and the metal folds are aiming exactly at the tail.
...but the worst part is that there are rusty holes in the roof and it is constantly drizzling with something sticky, and the day and night eclipses, which come one after another, create very strange lighting and it seems as if you are walking through violet jelly.
And you have the sharp... ...feeling, that you can't see anything from the inside of the binding cocoon made of the nasty rain, but even the viscous twilight can't hide your movements from the outside.
Distant squeaks and rustles are still heard through the sticky veil, and that means, that someone is watching.
But what can you do? Just smile and try to convince yourself that you know nothing and you are perfectly fine.
Sometimes dark grey phantoms of the watchers flicker somewhere, but much more often you can just hear the subtle gritting of their claws stepping on the floor and the walls, depending on where they choose their new watching position, from which they can see you better, they can hear you better, they can e... ».
From the illustrated «Memoirs of an Unknown Cat», page 52.