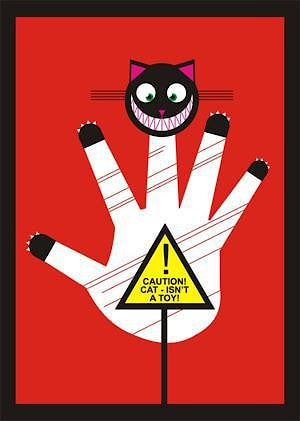 Would you like to play with a cat? And if it were as big as a human being and you were as small as a cat? And what would happen if in this case a cat wanted to play with you… To roll you on the ground holding you with its sharp teeth, bring you into the street and cover with sand… Would you like to try that? If not, before trying to play with a cat think twice and consider whether it would like to play with you. This is what the poster is talking about: CATS ARE NO TOYS!
The poster's motto is – Cat is not a toy. It is for people who really love cats and take care of these fantastic animals.
This poster was first shown at the international exhibition "
March Cats
" in Belarus in 2009. It was a bright pearl exhibited in the very heart of the venue. It was praised by the public as well as by professional critics.