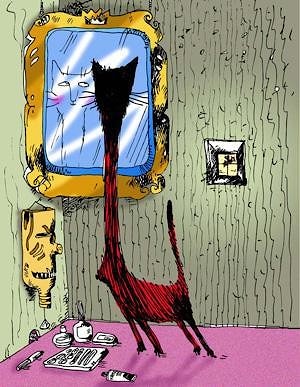 Cats, just as well as women all over the world, love flossying themselves up in the morning. Every day, as the sun goes up, women and cats graciously stretch themselves and look in the mirror in order to make sure that today they are even more beautiful than yesterday.
But it is a little bit more difficult for cats, as they need to lick themselves from head to toes. The she-cat preening herself will give you sensual ideas in the evening and good mood in the morning.
The poster is now being exhibited in Warsaw at the exhibition "The Life of Extraordinary Cats", which runs at the reception hall of the Embassy of the Republic of Belarus in Poland. It was this poster which aroused special interest of the Polish movie-elite at the opening ceremony.