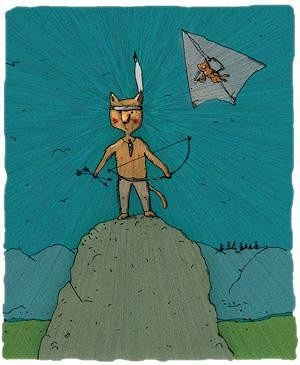 As the legend states the true Indian needs just one thing. Just one bow, an arrow and one target flying in the sky would be quite enough for hunting within one sky.
He norrows his lid and, being really well-aimed, he shoots one arrow at the only aim in the only sky.After that he immediately and irrevocably looses his only joy and hope in life, as both the arrow and the aim are taken away by the impetuous, always changeable wind, which shuffles the direction, the speed and the hight.
But the Indian already doesn't give a damn, as now, being left on his own, he cares only about one thing: whether he should meditate upon his first bad shot or rush for the lonely sky surfer, at whom he has just pointlessly shot with his only straight and pointed arrow with beautiful feathers – his mother's present for his only holily celebrated Birthday.
P.S.Special thanks to the one and only Julio Cortázar for his rhythmic works.
- The End -