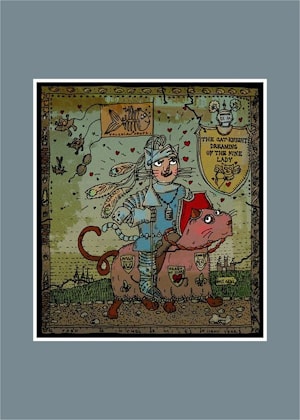 You may know that there used to be dog-knights, so it is natural to suppose that there are also cat-knights. The thing is that cats accomplish their feats at night, when all dogs are asleep.
That is when they start grailling in search of the beautiful dame. Upon finding the beautiful dame they purr and mew until the two-legged dragons, guarding the beautiful dames, feel deeply moved, cry at the beauty of the cat songs and set the beautiful dame free. And when the object of adoration is free, the knight is also free to save the dame from melancholy and loneliness.
But when the sun rises and all other creatures get up for the daily watch, cats wind themselves into a ball and purr savouring the memories of their night adventures. And life becomes wonderful: as when someone was sleeping cat-knight has already accomplished many great deeds.
P.S.This is the full original title of this work:"The legend about the brave cat-knight in search of the beautiful dame, which appeared to be absolute truth as proved by the findings in Grodno and Gomel, and the names of the towns obviously derive from the Holy Grail".
- The End -