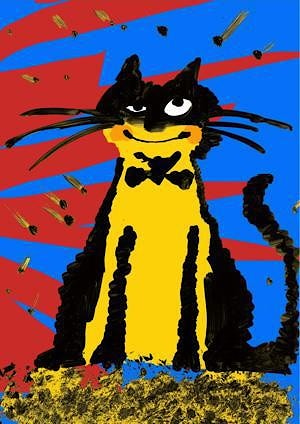 Movie super heroes inspire us to make great deeds. The silver screen offers us different versions of handsome 007 in tailcoats and bow ties with absolutely-corageous faces withstand all the mean tricks of the theatrical villains. And all those true heroes, even wen the film is over, never stop being the big dream for many people, winking at beauties from posters and big boards and and making hints to under-musclemen that muscles are badly needed.
Once uponime someone said that Harlequin (and his cat version) should be always funny. Ha-ha-ha!
In fact he is supposed to be the most courageous and sexy of all the living beings.
That is why all people try to copy super heroes: some copy their looks (businessmen and waiters), but all men want to be super heroes deep inside. Even those who still don't know about that.
And film-making industry is creating more and more attractive images. The beauties are sweapt off their feet by the beauty of heroes and men applaud to them. This is the real ideal life on the huge silver sc-quin.
- The End -