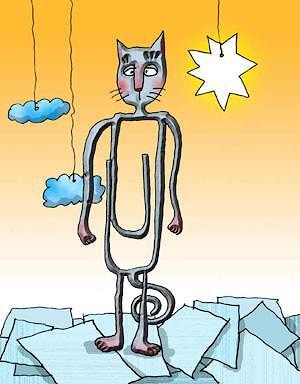 When a cat comes to an office – that is absolutely great! For the cat, but not for the office workers. Because the cat can climb and penetrate anywhere, even into the most out-of-the-way places. And no offer of a lunch-box sausage will make the cat get out of there.
But if the cat is left to live in the office very soon, just after the cat has reached inner harmony, has sniffed around, the cat knows it for sure – She is the head of the office. That is why since that time the Cat demands special attention, She wants others to play with Her, because all the sausages of the office all the same belong to Her. That is a crucial point, when the office work simply stops, because all the female office workers melt with the beauty of the Cat, call Her by tender names, pat Her on the back and male office workers melt with the sight of female office workers patting the Cat and can only dream of being the Cat. The overall mood is so sweet and touching, that office romance flourishes. The Big Boss only can set everything back to norm and banish the alien. After that the office is back to ordinary boring activities and the Cat, with Her tail up, turns Her back on the office and being proud and satisfied with the lunch-box sausages leaves the place for a better one. She knows perfectly well that she is unique and offices… Well, she will easily find another one.
This poster may help the Big Boss to sublimate a real office Cat with a drawn one with no detriment to the fruitful work of his subordinates, and the office workers – seeing the poster – will always remember that one can enjoy life at work as well.