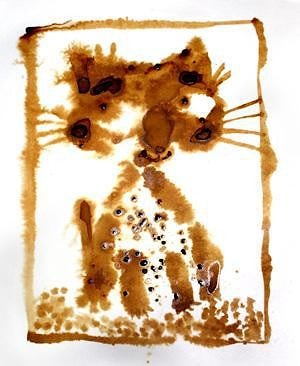 They say that the inventors of coffee were goats who started having fun and dancing after trying coffee berries. It's natural that this super-enthusiastic behavior attracted the shepherd's attention.
But in reality an Ethiopian Cat was the first to try coffee beans. He liked that coffee-berries are rolling down the road in such a funny way, so that he could play with them. And if you bite them they fall into two parts. His master - the shepherd - payed attention to the fact that after trying those berries the cat was chasing the neighboring mice all through the night.
Upon seeing all that the shepherd decided to give coffee beans to his goats to have more fun. And only after that he decided that he is bold enough to try the beans himself.
Besides it was the Ethiopian Cats who - quite by chance - left the beans in the sun: that is how roasted coffee was invented. And then some of the beans fell down in the cat's milk bowl: that is how coffee with milk was invented.
The grateful master called the berries - as well as the drink - after his beloved cat - "cottee". But the first lisping Moor merchant mispronounced the name as "coffee". And this is how the drink is called now, being popular all over the world... People call it gently by the name "coffee".
- The End -