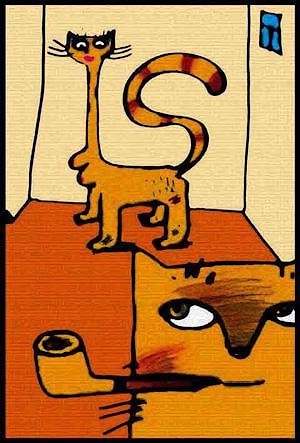 They say that cats hate cigarette smoke, but love the smoke coming from pipes as it is very aroMEWtic. Besides, the person, smoking a pipe, almost certainly has an artistic, creative, freedom-loving and a bit enigmatic soul. All that attracts and even mesmerizes the opposite sex, whether they are cats or people…
It is still unknown how cats manage to find such tiny pipes and how they fill those pipes with tobacco, but they successfully manage to attract female cats and the latest even fulfill some of the fondest dreams of male cats.
P.S.
"I am smoking my big pipe, looking askew at the décolleté.
And the buttons on my topcoat unfastened gently all by themselves…"
...These immortal lines are written at the back of the poster by the artist himself.
- The end -