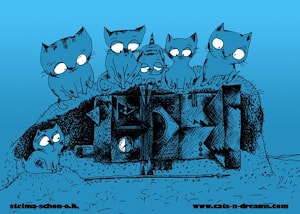 «...many creatures like digging in the ground: males and worms make round holes, people hide their treasures, and after that search for those treasures for hundreds of years. Cats don't understnd either of the activities, they just hide their "waste products" in the ground. But even in such an intimate moment some surprizes may be waiting for them.
What would people do if they found a mechanic statue of some prostrate dictator? Would they start tearing off some spare parts from this fossil-thingie? Would they try to turn it on and get to know how it works? Would they call 9-1-1, so that emergency people would be seeing to the matter? Everything is possible.
But cats are not looking for additional adventures. For them travelling is as natural as eating or drinking or... easing themselves. After that they easily hide away all the traces, making the world totally harmonious, ecological and clean.
And then they start enjoying the very fact of their exsistence with an easy mind...»
From the illustrated «Memoirs of an Unknown Cat», page 16.