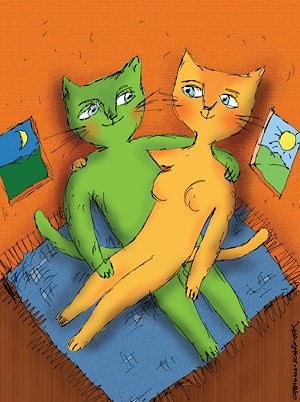 «… Catwomen are so gentle. Maybe that is why the wind of fashion blows them into fitness and pilates. And all the things and devices that look, sit and lie so good on them. One of the gentle kind needed to lie down on her side in order to take her shoes on and off, as her dress was so tight. And the jeans, that one can put on only if she lies down? When the beauty gets up any catman reacts correspondingly, as the beauty of all the forms becomes so obvious.
But the times are different and a beautiful Catwoman could be locked away in a tower, which does not have a great number of intelligent interlocutors: just the two-headed fire breathing dragon, who is not too good of a company: it's not friendly, even rude and you can never know its gender for sure. And there is no connection with the world in the tower!
But let's try to imagine any modern Beauty locked away in a tower today.
The very first thing she would do is sending tons of SMS/MMS to all her friends: look and be super-jealous! What nice apartment I've got, the view is gorgeous and the fire breathing doggy is so cute. After that is will probable not even need to chat with the Prince and send her location to everyone. Everything is much easier. Poor dragon - he/she/it will be shocked - will receive a pair of headphones and will inevitable dig on R'n'B or house music. That's how he/she/it is gonna miss a lot of people coming from all sides with their navigators. The tower - erotically standing out - will attract a great party.
And then the moldy one, who has locked our Beauty away in a tower, would not be happy with his/her idea if only... if only it was not a plan to make a forgotten by Grimm Brothers Fairy-land really civilized and modern. With the help of this complicated series of passing moves, leaving out capitalism6 socialism and communism, one can actually get to the bright future. Bright not because it is shining from far away, but because it will inevitably come to us..."
Extract from the illustrated «Memoirs of an Unknown Cat», page 552