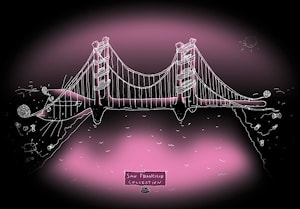 Everyone knows that cats love to play with clews and spools, but few people wonder, what happens if they do not take those things away and give cats the opportunity to bring the matter to its logical end.
It appeared that cats are genetically prone to creating a perfect architectural structure based on the suspension ropes.
The fist to notice this peculiarity of the great striped creators was Joseph Strouss, the engineer who is responsible for the creation of the bridge project "Golden Gate" in San Francisco.
Joseph simply sketched the image of the Golden Gate looking at his friend's cat lying on its back and playing with clews. It all happened in the house of the great mathematician Charles Alton Ellis.
Later Stroussom made some mathematical calculations for the construction of the bridge to be performed. Ellis did his job very well, but, as it often happens with people when they start fighting for numer 1, there appeared some coolness between them. Maybe because the cat was way too cool.
The former friends didn't want to hear each other's names any more.
Maybe that is the reason why the names of Ellis and his cat never appeared on the special nameplate with the list of the builders of the bridge.
That is why the name of the cat, which appeared to be the prototype of the bridge, was unknown for many years. However, manuscripts never burn, and not long ago a poem by Ellis was discovered in the ancient archives. The poem was dedicated to the legendary creature, which became the model for creating the most famous bridge of all times.
"Once in San Francisco
Lived a cat named Frisco
When day died down, alas,
The cat always looked at Alcatraz ... "
P.S.
This year Golden Gate is celebrating its 75th Anniversary.