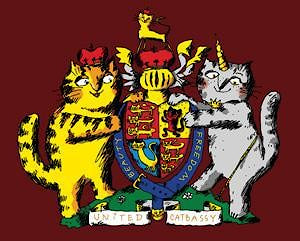 Each and every country having self-respect also has its own Embassy. For the good and for representing its interests. Can you imagine that?
There are just two free people that that do not have their countries and embassies to other sates – those are gypsies and cats.
Dear dog lovers! Do not take offence! We don't take dogs into consideration because they are always in the line of duty.
And the UN really lacks for the representatives from Cats. Have you ever seen them at any of the sittings? But everything would have been so much better and friendlier, if cats were represented there as well.
It used to be otherwise long ago, and some people even heard legends about ancient creatures – cat lions and cat unicorns, that united the people of Cats. But it was so long ago… And after the tales by Kipling were issued all the cats decided to become independent.
And the united land remained only here, in the poster. And now in your memory as well.
- The end -