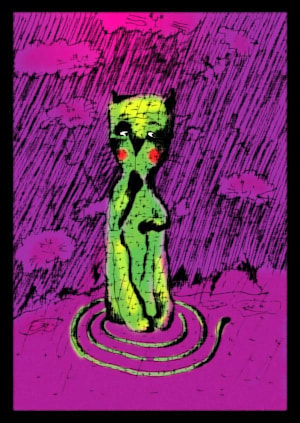 «...the Earth is intelligent. But it is not because it has people and cats - the apex of creation. This is just how it is: it supports us, gives us water, feeds us, warms us up with very inviting rustling hills made of yellow leaves, as well as wit other secluded and cosy places in the forests.
But the Planet, after it has been spinning for thousands of years, became cold several cat generations ago.
And we, cats, having received numerous gifts from the Earth, including our lives, must pay for all the good. But even when we gathered all together and had our huge furry intellectual community embrace the Earth and clasp it to our bosoms, we failed to warm it up.
Still there is a secret cat way of giving warmth to the Earth. It works very fast and lasts for another 365 days: you just need to transmit the energy of a lightning to the Earth.
That is why once a year before a huge storm the cat fathers choose the most worthy cat with the longest tail who proudly sits on top of a hill.
Sometimes cats are very lucky and lightning immediately strikes them. In this case the lightning, caught by the whiskers, goes down the body to the tail, which warms up immediately. The heat from the preliminarily curled tail screws up into the surface of the planet which starts to spin faster (and to be absolutely frank, it is after this tail ceremony only that times of the day and times of the year start interchanging).
But if the lightning doesn't strike the cat, time goes very slowly, lagging somewhere behind.
In this case the Treasury creates special conditions to attract lightnings (in order to avoid the crisis): the whiskers and the ears of the chosen cat are covered with gold.
The cat, who has caught a lightning, enjoys full board and lodging at the Pantheon of Fame and is being totally lazy for the whole year, licking his long tail, which gave the Earth energy to spin and stay warm.
Now there is a rumour that there is no need to catch lightnings any more, as it is getting warmer and warmer on the Earth, and there is even the threat of a global warming. Well, maybe that is all because it is not just us who love the Earth and who have long tails. Anyway, we are proud of ourselves...»
Quoting «Lightning Catcher Manifesto» from the illustrated «Memoirs of an Unknown Cat», pages 269-271.
- End -