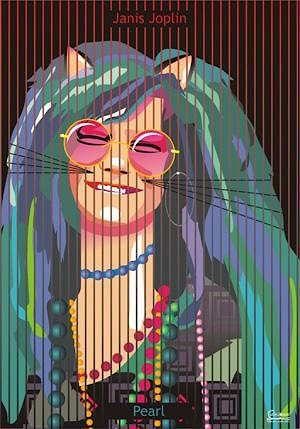 Janis Lyn Joplin is truly believed to be the best white blues performer and one of the greatest vocalists in the rock history. She performed blues and psychedelic rock being part of
Big Brother and the Holding Company
, and a bit later she set up her own bands –
Kozmic Blues Band
and
Full Tilt Boogie Band
. According to various polls and ratings Janis Joplin is one of top-50 best performers of all times.
In 1961 Janis Joplin started giving concerts at way-side clubs. This is where she acquired her unique talent in performing blues. Though she had never learned to read musical notes, she was amazingly receptive. At that time Janis Joplin failed to withstand from alcohol misuse which, as it is said, influenced her voice and made it husky. But it was her husky voice that brought her fame. Janis Joplin sang with passion and so loudly, that her voice was heard even in the street.
In summer of 1963 she gave a performance at Monterey folk-festival, was injured in a motorcycle accident, got involved in a street fight and was put into prison for pilferage. In a couple of months Janis Joplin performed live for a radio station in San Francisco for the fist time. The listeners were amazed: never before had any singer behaved or sang like that. The demand for her first album was so high, that it became "golden" even before it had been released. In August 1968
Сheap Thrills
was released (its cover was created by a famous underground cartoonist) and in a month it appeared that more than a million copies had been sold. At Newport folk festival Janis Joplin was given a standing ovation. The public didn't want to let her go, thus she performed till 1 a.m.
Very soon Janis Joplin performed with such famed rockers as TinaTurner, Rolling Stones andJohnnyWinter dazzling the public by her outfits which consisted mainly of tinsel panties, dozens of bracelets, necklaces and orange feathers.
The album
Pearl
released in 1971 was Janis Joplin's greatest creation, but unfortunately the last one as well. It was decided to include the instrumental track of the song "Buried Alive In The Blues" into the album, because Janis Joplin's voice for it had never been recorded.
Though no one said that Janis Joplin was beautiful, many considered her to be a true sex symbol. Her performance on stage was erotic and they said that hearing her singing "Ball and Chain" was just the same as sleeping with her. Janis Joplin said that being on stage she makes love to the audience, but at a higher level. In 1968 in one of her interviews she confessed that her performances were very close to sex but they were even more than that. She wanted to do it again and again while the feeling of happiness lasts.
No graphic poster can ever reveal the fluids of this Pearl. But being charmed by the gorgeous Janis artists still continue to create drawings of her. You can find one – cat Janis Joplin – in the graphic poster collection of this site.