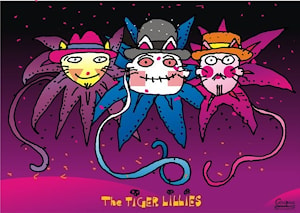 The Tiger Lillies – is a cult British band, a crazy Brechtian cabaret boasting of an amazing legacy: 27 albums. They are a living legend and perform about 300 concerts a year all over the world. The Tiger Lillies manage somehow magically to make even the most grave topic colourful painting it with the their music. Certainly we could not miss their concer in our country and interviewed the flamboyant trio.
You are using the most unusual objects at your performances: from toys to a saw. Your drum kit looks like an eclectic collection: two toy chickens, a cow's bell and lots of other unindentified objects. How do all those things apper? Does your "transformer" drum kit somehow changes during your gigs?
Adrian Huge: Of course, it changes. I constantly get different presents . Actually, everything that is left from the originsl kit is just the small drum and the foot-beater. Some parts of the kit come from Prague, some - from Canada. Some pieces of the drum kit were stolen in Greece, so we needed to buy some new ones. Actually, when we visit a new town I alway pop into a toy shop or a music shop and find some quirky things there that can make strange noises. My drum kit is a collection of my memories. I can't take everything on a plane, but at home I've got a huge collection...
Frank Zappa once played on a bicycle. Have you ever played music on something that seemed to be totally out of the musical universe?
Adrian Huge: When we were performing in Prague it turned out that the drum kit has magically disappeared. But especially for me a drum kit of saucepans and kitchen utensils was made. The same thing happened when we came to Prague for the second time. Of all musical instruments I had a plastic bucket only, and we put a microphone inside of it (laughing). It was real fun and the audience totally loved it.
The Los Angeles Times called you "Queen Victoria's worst nightmare". And whose fondest and sweetest dream could you be?
Martyn Jacques: (laughing) I think, we could be a fondest dream of the genius/lunatic Marquis de Sade. And I am sure Salvador Dali would love us.
Band members:
Martyn Jacques - vocals, accordian, piano, guitar, harmonica, ukulele and banjoele
Adrian Huge (born Adrian Hughes) - drums, percussion and backing vocals
Adrian Stout - double bass, musical saw, theremin and backing vocals.

Interviewer: Alexandra Stelmashonok