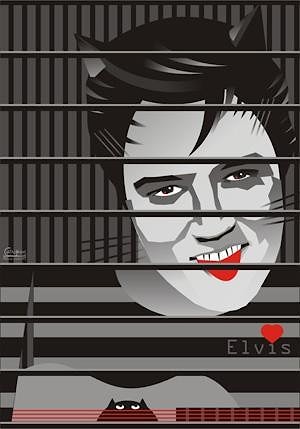 When a sassy young man Elvis Presley entered the studion "Sun" in July 1953 to record a song for his mother "That`s All Right, Mama" he had no idea that he was entering into a legend. Elvis' music and style, behavior and manners were stunningly different from other performers of that time. It was January 1956 when his first single "Heartbreak Hotel" was released and that very year the singer got six "golden discs". In October 1956 American magazine "Variety" crowned Elvis Presley "The King of Rock-n-Roll".
Such tremendous success gave Presley the key to Hollywood and his first film was "Love Me Tender" in 1956. In 1957 two more films were released – "Loving You" and "Jailhouse Rock" which were a success as well.
In mid 60s Elvis was visited by The Beatles. The celebrities were not just talking but playing music and some of the compositions were even recorded. Still, these recordings which cast millions of dollars has not been found yet.
In 1970Elvis Presley started performing dressed in glittering one-piece suits, embroidered with gold and adorned with stresses. It was then when all Presley concerts started with Strauss overture and ended with the "Blue Hawaii" soundtrack "Can't Help Falling In Love". Every time after performing the song Presley immediately left. Half a minute later the master of ceremonies announced that Elvis had left the building. Probably that is why in the movie "Men in Black" it was said that Elvis did not die – he has just left for his home planet. Still in the Internet $3 million is offered to the person who will find Elvis alive.
Elvis is still the most successful popular music performer of the 20
th
century. He had set an incredible number of music records. Most people call him by his name – Elvis. Or simply The King.
It was the film"Jailhouse Rock" which inspired the creation of the poster, where Elvis is depicted as a cat. Order this poster and enjoy your life!