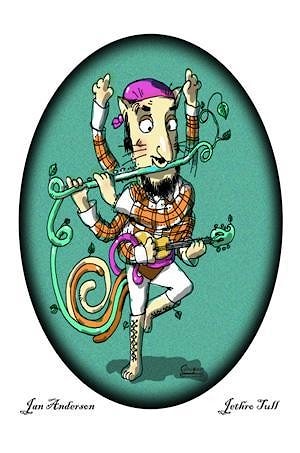 Jan Anderson, the great English or rather Scottish flutist, guitarist, vocalist and song writer from the great band Jethro Tull, gave a fantastic concert in Minsk, March 2009, in spite of the fact that he had broken a finger on his left hand.
This was one of the best concerts that we have seen in 50 years: the sound was ideal, it corresponded to the sound of the CD recordings, and Jan's amazing playing the guitar and the flute, though he was injured. And there was sensational voice of Jan Anderson, which brought back the memories of Soviet youth and the happiness of buying vinyl records with pop-up pictures (though the records were outrageously expensive).
Sergey Stelmashonok met Jan Anderson seven times – at the airport, at the press-conference, at the concert and four times backstage – and that was a great source of inspiration for the artist, when he created his FIRST ROCK-n-ROLL CAT poster.
Now you can enjoy the portrait of multiinstrumental cat-minstrel-lepricon Jan Anderson, and the ROCK-n-ROLL CAT series which started with this poster will go on!
.