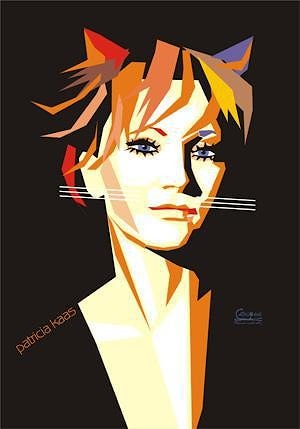 The repertoire of the amazing French singer and actress Patricia Kaas is very diverse: it's a mixture of pop music, jazz, blues elements and classical chanson. More than 17.000.000 copies of her CD have been sold since the release of the first album
Mademoiselle chante…
Her voice is absolutely unforgettable.
Her success is also connected with one more thing: she is almost always on tour. Patricia Kaas had to sacrifice much, but she withstood everything – in fact, one of her friends called her a flint.
Her mysterious US album
Black Coffee
was ready for release in mid 90s, but it has never been released. The main song of the album is a Billy Holiday song cover. The album was also supposed to be remarkable due to Chicago song cover
If You Leave Me Now.
Patricia Kaas always takes instant coffee and several candles on tour, so that she could light them during her breakfast and supper. She considers candles to be the symbol of homely coziness.
When she is back from her tour, she prefers peace over noisy parties. For her hot whirlpool is the best way to relax.
Her love for avant-garde design made her spacious apartment look absolutely extravagantly with black walls and white décor.
The dog Tequila – which was given to Patricia Kaas by the famous film-director Claude Lelouch – always accompanies the singer during her tours. So, they are real friends: Tequila always waits for Patricia, never asks tactless questions and never asks to give up singing for the sake of their love.
Patricia Kaas has never met her Prince Charming and that is why she is still not married. She often says that for each age there is a Prince Charming: when you are 20 you dream of a person who would give flowers. When you are 30-40 you dream of a real person who will just be beside you.
Patricia Kaas had an affair with the gorgeous Alain Delon. But she was afraid that this love would ruin her career. "Probably, we could still be in a relationship but for the wild behavior of Delon in love," – says Patricia.
Still, she has his phone number and can always call him. But Delon prefers solitude – just like the "flint woman" Patricia Kaas…
The poster depicting Patricia Kaas as a beautiful and gracious she-cat was presented to the singer by the artist Sergey Stelmashonok before her concert in Minsk.