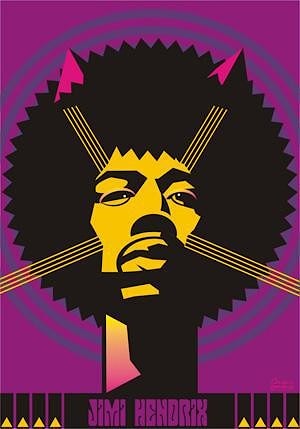 Chas Chandler, bass guitarist of the band ANIMALS, brought a phenomenal American guitar player Jimi Hendrix to London in 1996. His first album "Are You Experienced?" came as a bombshell and was second in popularity after the legendary "Sgt. Pepper's" by THE BEATLES.
Jimi was a bright performer: he dressed extravagantly on stage, played the guitar with his teeth and elbows and during his London concert on March 31, 1967 he was the first musician ever to set his guitar on fire.
It was rumored that he put LCD under his bandana and when he started sweating the drug was absorbed through his skin and that is how he performed his stunning guitar solo.
The album "Electric Ladyland" was released in 1968. The success was tremendous. The album became golden a week after its release and it was soon recognized as the greatest rock creation of all times. After the release of "Electric Ladyland" Hendrix became a true icon. The British album cover depicted two dozen naked women and the American variant of the same album had the photos of the band only.
Unprecedented success of "Electric Ladyland" made Hendrix a superstar: his band was paid an enormous sum of money for that time – $100000 for his 45-minute performance at Newport pop festival. They were even invited to perform at New York philharmonic hall – the honour which has never been given to rock performers before.
Jimi Hendrix as a cat??? Why not! He could have appreciated this experience!
- End -