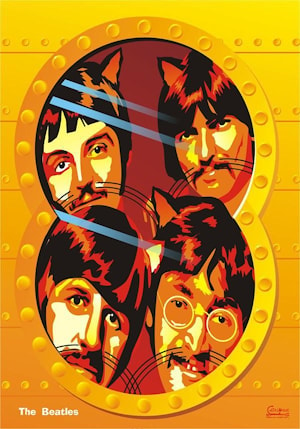 The USSR Government never liked The Beatles, because they could never make them look bad for the people of the Soviet Union.
First of all, Paul, John, George and Ringo are ordinary guys, meaning - socially close to us (unlike the millionaire Frank Sinatra who - as the USSR Government tried to prove - was somehow connected to the mafia), they also behaved in a nice way and dressed neatly (unlike the Rolling Stones that were constantly mocked at by the magazine "Crocodile"*).
When in 1964 the Beatles were supposed to be performing in Olympia they met Ludmila Zykina in a restaurant and even sung "Kalinka" with her (she told the public all about it in 2009 only).
It is known that in the 60-s the magazine for young pioneers "Koster"published the lyrics to Yellow Submarine translated by Joseph Brodsky (!).
In fact this publication was a rare exception , as all the information about the Beatles was usually labelled as "facts proving that the West is degrading", and all the legends were presented in this way: like, these capitalists have sunk so low...
But keeping silent really spurred the appearance of legends: for example, one of the legends stated that in 1966 the Beatles performed in the airport Sheremetievo. They say that the Beatles were invited by the Soviet Government, but when the musicians arrived in the airport they were informed that the concert had been cancelled. They were frustrated, but still wanted to perform - that is why they had a mini-concert right on the landing area... And after that they flew home.
Years ago the Beatles sang Back in the USSR. There is one more proof to the fact that the Beatles visited Moscow: the unpublished song which was lost afterwards "Four Nights in Moscow".
- The End -