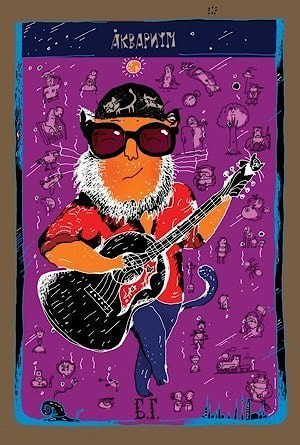 Boris Grebenshikov, whom fans affectionately and almost familiarly call "Bob" - is a very intelligent man of a great multi-faceted talent. For some people he is the best poet of our times, for others - the last hero of rock 'n' roll. Some people find his lyrics to be vague, others find hidden meanings and sometimes even foresight in them.
When there is ane opportunity to talk with Grebenshikov, people usually expect almost divine revelations from him. But usually they get direct and sincere answers, which is perhaps even more valuable.
What is creativity - connection to the higher realms or a special state of mind?
BG: No one could ever give an answer to this question, and I don't think I can give it. We are all connected to the higher realms, and none of us is born alone.
What is the source of inspiration for Boris Grebenshikov?
BG: The desire to impress someone. To sing a song that will astonish someone. When you play music, all the people standing on the stage strike a chord, and at this very moment the soul ceases to exist, it merges with something that is beyond any words. It brings a lot of joy and happiness.
Questions were asked and the
portrait was given
by Sergey Stelmashonok
- The End -