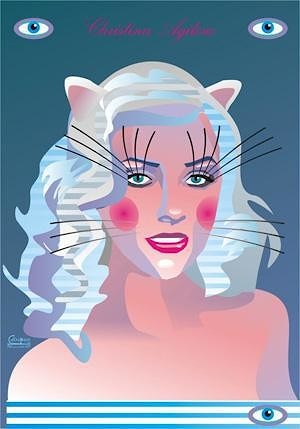 The very first promo single by Christina Aguilera "GenieinaBottle" was heading the Billboardchart for five weeks and was awarded many times. It was the first of many hits, which often appear in different ratings. The second single became one of the most sellable ones – the album was sold in 17 million copies and it was 10 times platinum.
In the USA Aguilera's album"Stripped" became platinum four times, and Aguilera's growing sexuality attracted even more public attention. After the release of a sexually explicit song "Dirty", which appeared for some people confusing and shocking, another song appeared – the sensual ballad "Beautiful" – one of the most renowned songs by Christina Aguilera which was awarded as the best female pop performance at Grammy 2004. The single became emblematic for the singer. Being consistent with her sexy image Christina Aguilera had her naked pictures taken for the magazine Rolling Stone.
Soon Christina Aguilera radically changed her image, first, by turning from blonde into a jet-black brunette, second, by removing her piercing from ears, brows, lips and tongue (only one is left in her right nipple).
At the same time she became the hostess of the TV-show Sex, Votes and Higher Power on MTV which was also dedicated to sexual abstinence.
The new album by Christina Aguilera "Back to Basics" – real masterpiece – is spiced up by jazz rhythms, soul, blues and variety of the 40s. Though the double album was quite pricy during the first week after its release it was sold in 330 thousand copies in the USA only and it immeadiately headed the music charts of 13 countries. In the end more than 4,5 copies were sold. The album became tremendously popular and was awarded an incredible number of times.
The most smashing hit of the album was "Candyman" – a renewed and modernized version of the 1941 hit "Boogie Woogie Bugle Boy" by Andrews Sisters. A real airport in Spain was taken for the shooting of the vintage style music video where Aguileraappears as a blonde, as a brunette, as a ginger, as the famous factory worker Rosie Riveter from the second world war time posters "We can do it". Apparently she was inspired by Judy Garland and Rita Hayworth.
According to various magazines ChristinaAguilerais one of the most desired women on earth. It's no surprise that she appeared as a catwoman in this collection of posters. The poster was inspired by the music video "Candyman".