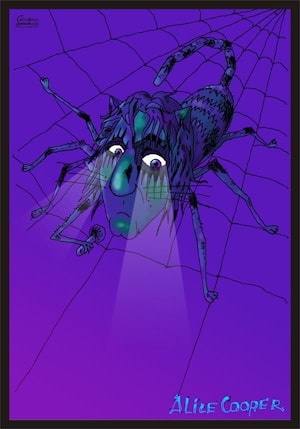 We introduce you - the great and horrid Alice Cooper who is looking at the world through spider eyes, beheading himslf on the stage, wa has created one of the first truly brilliant rock-horror ballads Stiven and a demonic hymn of the whole generation - Schools Out - and Black Widow, drawing into its spider web...
A weird character with a tender girly name Alice is the generator of many apalling images, he is a shock-rock apologist. And still, anyone who considers himself/herself to be a man/woman/cat of culture should get acquainted with his creative work.
Well, that is almost all that we wanted to say. Oh, there is still one thind left! In his real life the lanky shaggy creature is sometimes called by the name Vincent Damon Furnier, and this is quite a different person: he is an intelligent man and ideal father for his lovely daughter (who often takes part in the performance on stage - ususally as a crazy nurse). But that is on stage only. Still, the Coopers somehow wonder where all the boyfriends disappear after the first date. She can't be biting off their heads, can she?
- Happy end -