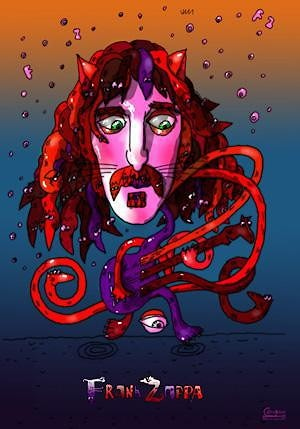 Frank Zappa, American guitar player and composer, singer and performer, released more than 60 albums during his 33-year creative work and turned out to be the most productive composer of his time. He was the leader of the band "The Mothers of Inventions" when he signed his first contract with the Verve Records company. After that he was forced to change the name of the band because at that time the word
Mother
stood for
Motherfucker.
A fire started during his Swiss concert "Frank Zappa & The Mothers" in 1971: the whole casino building where the concert was held burned down as well as all the musical equipment. This event was later immortalized in the hit "Smoke on the Water" by Deep Purple: the lyrics were inspired by the fire and smoke over the Lake of Geneva. At that time Deep Purple were working on their new album "Machine Head" and included the new song into it. Later "Smoke on the Water" became one of the greatest rock hits.
Frank Zappa worked with different genres of music from rock, blues and jazz to symphonic music. He was a Grammy prize winner and his album "Apostrophe" became golden in 1974.
Quite obviously Frank Zappa is also presented in the Rock Cats collection. Such a poster would definitely inspire an avant-garde and experimental music fan.
Bonus