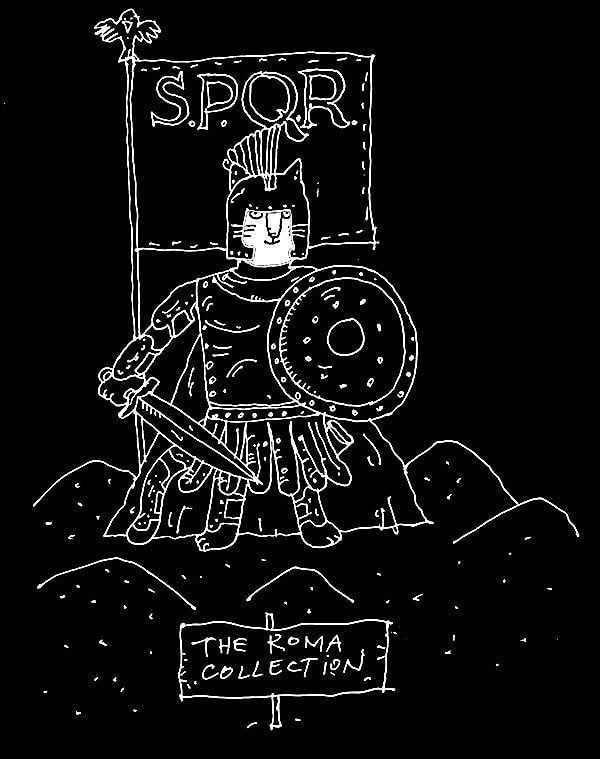 The most popular sites of Rome are the Coliseum, gladiators, the she-wolf, Vatican, but...
But in case we are choosing a modern symbol of Rome, we could choose a biker girl with a half-naked shoulder.
The reason for that is the following: these girls are afraid of nothing, they ride incredibly fast and they are numerous. They certainly attract much attention from everyone: the pedestrians, the police, standing in groups of 3-4 in sun glasses, that let them gaze at the beautiful girls freely.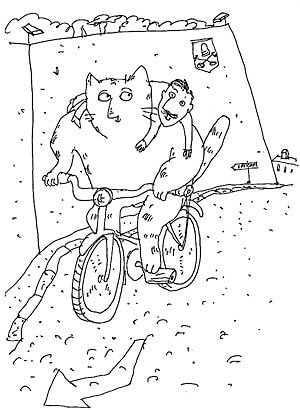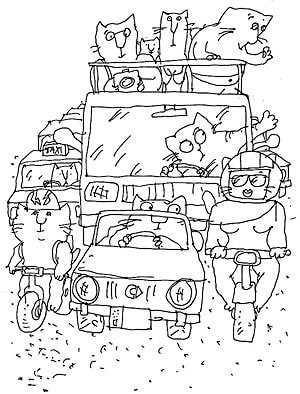 Men also appreciate all the advantages of bikes, as sometimes roman streets ore flooded with cars. Cars and buses kiss each other by the bumpers standing in traffic jams. Drivers are shouting at each other (just the way they do in films): "Idiotto...!" But the wheelled riders quickly reach their destinations.
I was so lucky as to see one cyclist who had a fat red cat sleeping on his shoulders. He looked like a real neckpiece (picture to the left).
Roman streets are the heart of its social life: they are bustling with life from early morning to mid-day and from 6 o'clock in the evening till late at night. Such "schedule" is connected to the cafes' and restaurants' working hours. They all close during the hottest time of the day. But before and after that thousands of small restaurants and cafes are literally packed with people, who are obsorbed by two main things: gaze at the passers-by and chat with their friends. The third pleasure is the food and coffee in tiny cups.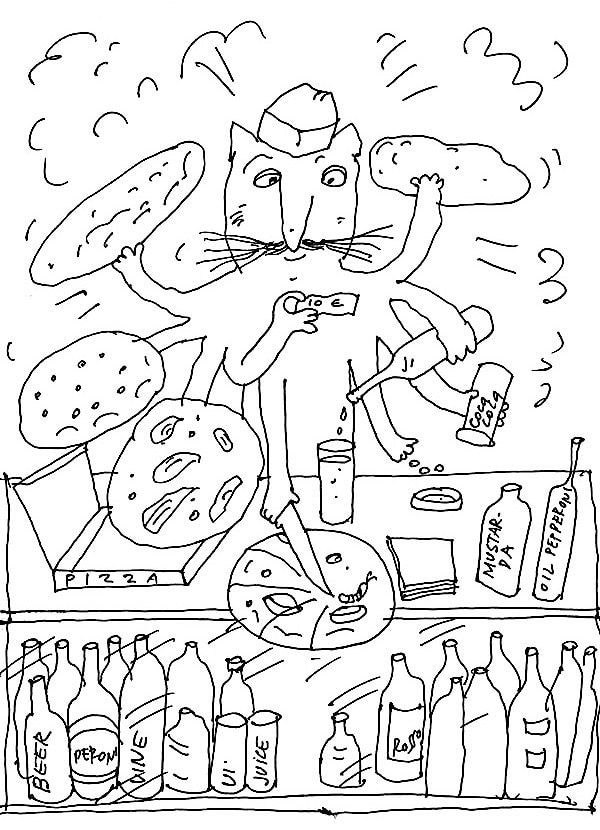 The speed with which Italian cooks work is incredible: they work even faster then they talk! They chat joyfully with their collegues and clients. They cook, cut, heat, serve...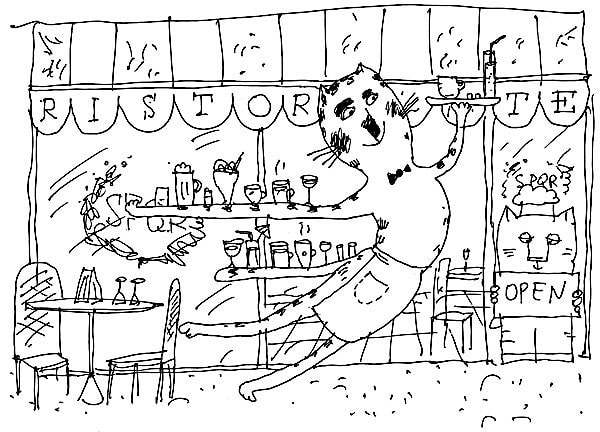 Still, Italian waiters aren't lagging behind their collegues. They are almost flying between the tables, they manage to remember all the orders in details till late at night (have tried it myself!).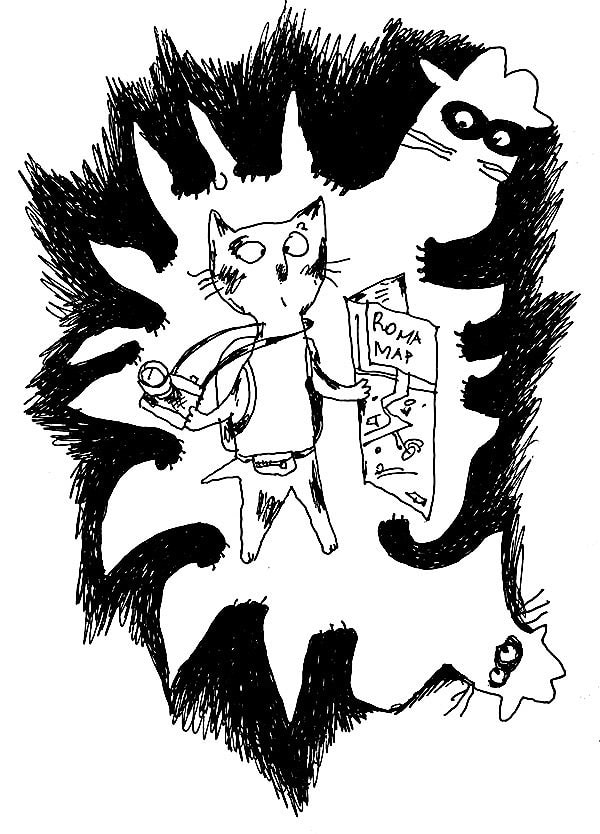 I have also experienced that Rome is populated not only with hospitable and friendly people always trying to help a puzzled tourist out. There are also so-called "rubano" or swindles. That's why all means of public transportation are decorated with cartoons warning tourists that pickpocketing is a real threat. Well, you are no tourist, if you haven't been swindled!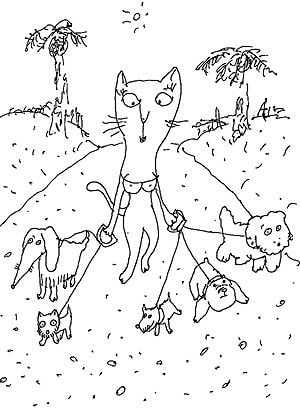 There are lots and lots of dogs in the streets of Rome. In the centre dog owners are concerned with cleaning up their dog's poo, but in parks everyone feels free to act as they like. Sometimes you can come across a big dog family in a park.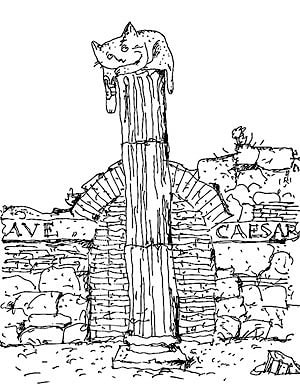 There is an amazing square Largo di Torre Argentina almost in the very centre of Rome. The biggest part of it is occupied with an excavation site, going deep into the ground. The old ruins appear to be the place of dwelling for numerous cats. There are dozens of them there: some of them lazily lie on the ruins of an ancient civilization, others slowly approach people and look down on the hustling-bustling men, proudly accepting their offerings.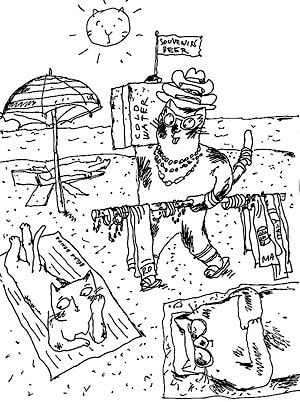 For those who are tired of the heat and tourists there is always an opportunity to leave the city centre and go to the sea: just half an hour metro trip to the station called "Christopher Columbus" and 7 minutes more on any bus along the seaside. And here it is: transparent gentle sea, soft sand, sea-side breeze and the Sun - that's everything that's needed for an ideal tan and relaxing holiday. There is also an almost "all-inclusive" service: cold water, cooked corn, lots of sun glasses, caps, hats, scarves, bracelets and other things suited to every fancy.
- The End -