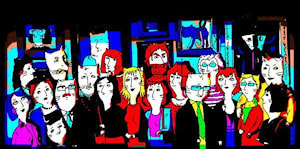 At the opening ceremony in the Polish town of Siemiatycze the artist Sergey Stelmashonok promised to make a group portrait of all the people that were present there.
Now - as the group portrait has been created - you are the first to see it.
This is a unique chance for the creative people and simply wonderful people of Siemiatycze - which was founded about 500 years ago - to see themselves as cats.
Besides, after the art work - the group portrait - has appeared, the memory about the exhibition at the Cultural Centre of Siemiatycze is bound to stay in the Chronocles of the town)).
- The End -