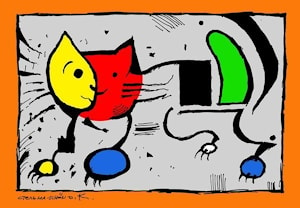 Joan Miro created his stunning and naive work watching his kitten.
The artist usually put multi-coloured treats for his kitten on a white sheet of paper with. The kitten immediately began to roll those things with his nose, leaving bright traces on the paper, nuzzled against the canvas and scratched it with his tiny claws.
Thanks to such simple actions (that could be called "some scrawl" but for the clever conсept by Miro) a bizarre kaleidoscope of the finest lines, stripes and colourful spots appeared. That is what distinguishes the works by this great Catalan.
By the way: Miro's love for cats is rooted in history. His ancestors liked to play with wild kittens, taming them, and all their neighbors liked to poke fun at the family saying "M-r-r-r, oh!"
This nickname has eventually evolved into the name of Miro.