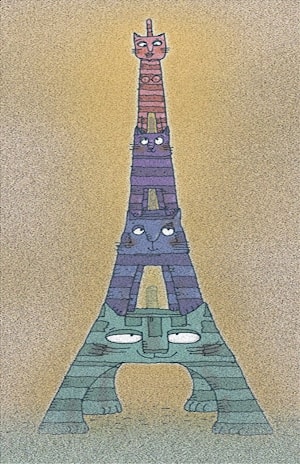 Not many people know the true story of making of the Eiffel tower. But the most recognizable sight in Paris and the symbol of the whole France could not have exsited but for the cats of the constructor - Gustave Eiffel.
The French engineer Alexander Gustave Eiffel as a young boy (when he still lived in Dijon) was really interested in architecture. As the would-be engineer had no materials except for his own she-cat and her three flames. Gustave trained them so well, that he could sculpture whatever he wanted out of those four creatures. That was some kind of a prequel for his future great constructions.
Eiffel graduated from the Central Arts and Crafts School in Paris in 1955 and that's when he took all his beloved cats (alredy 18 in the number) to the capital. He was specializing in creating metal constructions and watching the cats multiplying (the engineer used the cats for modeling his projects) in 1858 designed bridge over the river Garonne in Bordeaux. The engineer also constructed some other bridges and viaducts - each of them have some "cat" elements.
Still the fame was brought to Eiffel not by the bridges, but the tower which was erected for the Exposition Universelle in 1889. For the new project Eiffel used his old sketches of the cats from Dijon.
After 1900 Eiffel - who was always marvelling at the way cats jump and land on four legs - got interested in aerodynamics. Evil tongues say that the great Master used the Eiffel tower for some of his experiments. But we don't believe those stories. We know it for sure that Eiffel really loved all the numerous cats - descendants of those cats from Dijon - and never did to them anything they didn't want to perform themselves.
In 1920, in the afternoon of his life, Eiffel moved to his 25 (!) children and gave his laboratory with hundreds of his cats to the French Government, which gave food and freedom to the cats. They were running around, purring happily the legendary motto: Liberté, Égalité, Fraternité (Liberty, Equality, brotherhood).
Note: all Parisian cats are the descendants of those cats - prototypes of the most famous building on the Earth.
- The end of the documents, declassified during the research enthusiast expedition, who were studying top-secret archives, hidden in the Eiffel tower attic under its left back paw -