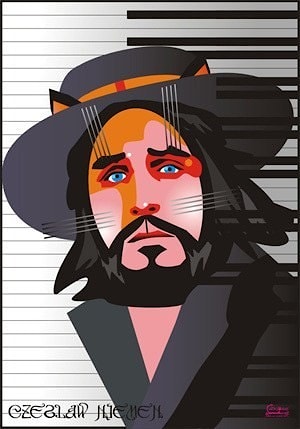 Czeslaw Niemen is not just a legend of European rock, because it was he who actually opened the Western music for many of Soviet people. The reason is simple: Poland is near, many Belarusians have relatives there, so people from Belarus crossed the border with Poland quite often, even with their entire families, so vinyl discs produced by the companies Pronit and Musa and leaked out through the iron curtain more often and more easily than any Western "tracks."
It is quite interesting, that even though in his "mature" creative period Niemen's art was obliously elitist, it was very popular in the USSR. Why was that? Even now, in the time of supersaturation of the market by different musical styles, the music by Niemen sounds fresh and timely.
By the way, the project "Rock Cats" actually started with a drawing dedicated to Czesław Niemen. The fact is that Ian Anderson and Alice Cooper posters were created as a one-time art-project, and only with the image Niemen the series "Rock Cats" has gained its geometrical stylized graphical language, which is very dear to the artist.
- The End -