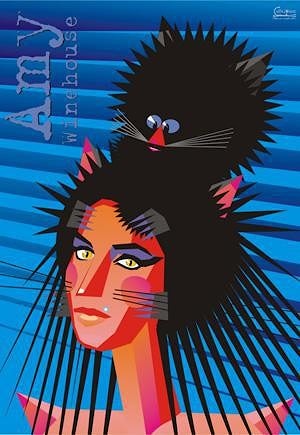 Many Amy Jade Winehouse's relatives were professional jazz performers and her grandmother was fond of her memories about the relationships with the British jazz icon Ronnie Scott. Her parents were Dinah Washington, Ella Fitzgerald, Frank Sinatra fans.
At the age of 11 Amy Winehouse set up her own rap band and in a couple of years she played the guitar, listened to modern jazz and hip-hop with her mind open to music and soon she started writing and recording her own songs.
The first album by Amy Winehouse "Frank" was released in 2003. Most of the songs she composed herself. When the producers first heard her recordings they literally lost the power of speech. Amy Winehouse even managed to startle sophisticated jazz musicians with whom she recorded her songs – as she started singing they were dumbfounded. Everyone was shocked by quite explicit texts – like the track "Fuck Me Pumps". It is a story about young girls of twenty hanging around in bars in their search for money-bags. But the elements of jazz, pop, rhythm-and-blues and hip-hop, as well as erotic and ironic performance and fantastic voice – which was somehow similar to that of Nina Simonе, Billie Holiday and Sarah Vaughan – made Amy Winehouse unique and attracted much publich attention. Soon Amy Winehouse appeared to be one of the Brit Awards and Mercury Music Prize nominees. She was awarded by the Ivor Novello Awards as the best modern songwriter for the song "Stronger Than Me". In 2004 her album "Frank" became platinum.
Alongside with her musical success Amy Winehouse became the press' favourite – scandalous behavior during her performances, dubious jokes, inadequate actions, insulting fans and other howlers attracted the attention of those who was not familiar with her music.
In October 2006 her first promotion single "Rehab" was immediately included into the British top 10 chart. The album "Back to Black" was a great success and by the end of 2007 it headed the British chart. The second 50-60s style album was inspired by soul music, rhythm-and-blues and roch-n-roll of that time as well as by the creative work of female pop groups. Amy Winehouse was awarded by Вrit Award as the best solo performance and the album "Back to Black" was presented in the nomination "Best British Album". By October 25, 2007 the album became platinum in Britain and in a month it was announced the best selling album of 2007 as well as the most popular one with iTunes users.
At that time the readers of glossy magazines chose Amy Winehouse as the best British performer.
The 50
th
anniversary Grammy Awards ceremony took place on February 10, 2008 in Los Angeles and Amy Winehouse got 5 awards in different nominations.
She is depicted as a cat in this collection of Rock-n-Roll Cats and her famous bird's nest style hair-do is also turned into a cat which seized her head.
"Black to Black" - Farewell, Amy. Someday we will definitely see and listen to your new CD, which you had no time to perform!